Chaos Ultiel is a Chaos Boss in MOW MY LAWN.
Boss Information
Edit
According to the game, Chaos Ultiel is referred to as Ex-Archgoddess Ultiel.
"I, Ultiel Omegase, being of sound mind and sound body, freely give away my divinity and all the immortality contained therein. I do this not for myself, but for the one that I love the most, who struggles against a greater evil than we have ever seen. I bind this contract with my immortal soul, and bid my godhood adie" -Ex-Goddess Ultiel's badge desc, Landscaping Contractor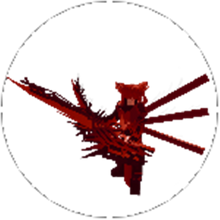 She has 5 million HP, each player has 10 lives, and the server holds up to 10 players.
Dash to someone and hit them with 2 swords, flings them really far away.
Slashes downwards with both of her swords, firing a large purple ball that insta-kills.
Turn into a purple cylinder and dashes towards the nearest player, killing through Force Field.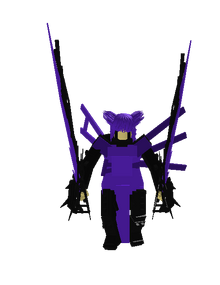 Guest was open to questions from the people who came at the time. Guest revealed crucial information such as the fact Ultiel doesn't teleport, but moves very very fast.
She made a contract that removed her godhood, hence Ex-Goddess
literaly the best boss in the game and the perfect god of religeon